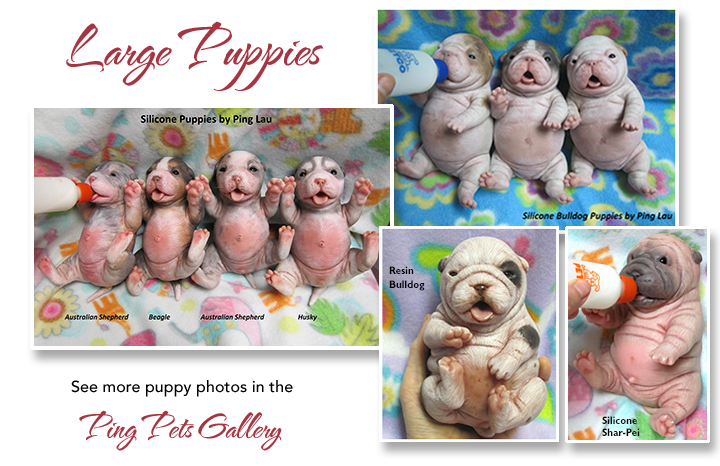 Most large breed puppies are $220 USD – Shar-Pei puppies are $280 – and are available in soft Ecoflex 20 silicone or firm silicone
(appropriate for children over 3 years), and $160 USD in solid resin. Puppies are approximately 6" (15 cm) in length
with the exception of the Shar-Pei which are the largest of the puppies at 7" (17.5 cm) and hand painted by the artist.
When ordering, a deposit of $75 USD is due ($95 USD for Shar-Pei, $55 USD for resin) with the balance payable when your pet is ready.
Postage is free in the U.S.; $20 USD First-Class Postage to Canada; $39 USD Registered First Class to the rest of the world.
To order your Puppy, please email ping@pingart.com. Choose from the following large breeds:
English Bulldog, Shar-Pei, Labrador, Australian Shepherd, Beagle, Husky, or Pit Bull.
Or request custom painting to resemble the large breed of your choice.
Please contact Ping if you need to convert to another currency or go to
http://www.xe.com/currencyconverter/ for current exchange rates.