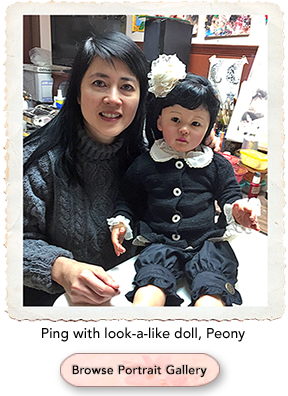 THE LIST FOR PORTRAITS IS CURRENTLY CLOSED. WHEN A SPOT BECOMES AVAILABLE, IT WILL BE ANNOUNCED HERE.
How do I order a portrait doll?
To commission a portrait doll, please contact Ping by email at ping@pingart.com. A non-refundable deposit of $200.00 is due at the time of your order. You will be placed on a waiting list in the order that your deposit is received. Portrait dolls are generally completed within 6 months to a year or more depending on the number of orders at the time.

What materials do you use?
The dolls are sculpted from durable polymer clay and painted with oil paints. Glass eyes are used and wigs can be human hair, modacrylic or mohair depending on the texture of your child's hair and your personal preference. Bodies are constructed from velour with aluminium armature so the dolls are poseable.
What will my portrait doll look like?
Portrait dolls are sculpted from photographs. The more photographs you can provide, the more accurately a likeness can be achieved, however, a portrait can be created from just one or two photographs. Videos are also accepted. For ultimate accuracy, life sittings can be arranged. Standard portraits are 24 to 32 inches tall and have arms sculpted to the elbow and legs sculpted to the knee. Larger sizes and fully sculpted limbs can be done for additional cost.
What will my portrait doll cost?
A standard portrait is $1600.00 with free shipping in the USA. International shipping costs can be provided by request.

Can I get a portrait of an adult?
Yes. Adults, children and even pets are welcome subjects.

Disclaimer
I sculpt commissioned dolls from images that you provide and from your instructions to make any changes. If you do not own the copyrights to the images, please be sure that you have permission to use them as you will assume all responsibility for the final product. I am not responsible for the infringement of copyrights on photos, artwork, etc., provided to me by customers. I am not responsible for any coincidental resemblance to any person, photo, doll, painting, literary character, etc.